Your Next Home Awaits

Tap Into Our Market Knowledge

Whether you're a first-time homebuyer or relocating from out of state, we've got your back. Beyond price point and number of bedrooms, we'll help you get to know different neighborhoods (including schools, shopping, access to highways) and understand which areas will appreciate the most over the next five to 10 years.

Use Our Network to Your Advantage
We have carefully built an outstanding reputation locally and among other Realtors. Ask them about our team, and they'll say we're very organized, easy to work with, and make the process smooth from beginning to end. In short, they like working with us – a great advantage for you in a competitive market.
In a competitive market with a lot of homes receiving multiple offers your Realtor must know what it takes to win. It's not only about the price, the small details about your offer can help it stand out. Because we understand the current market and what sellers are looking for, we will position you for success.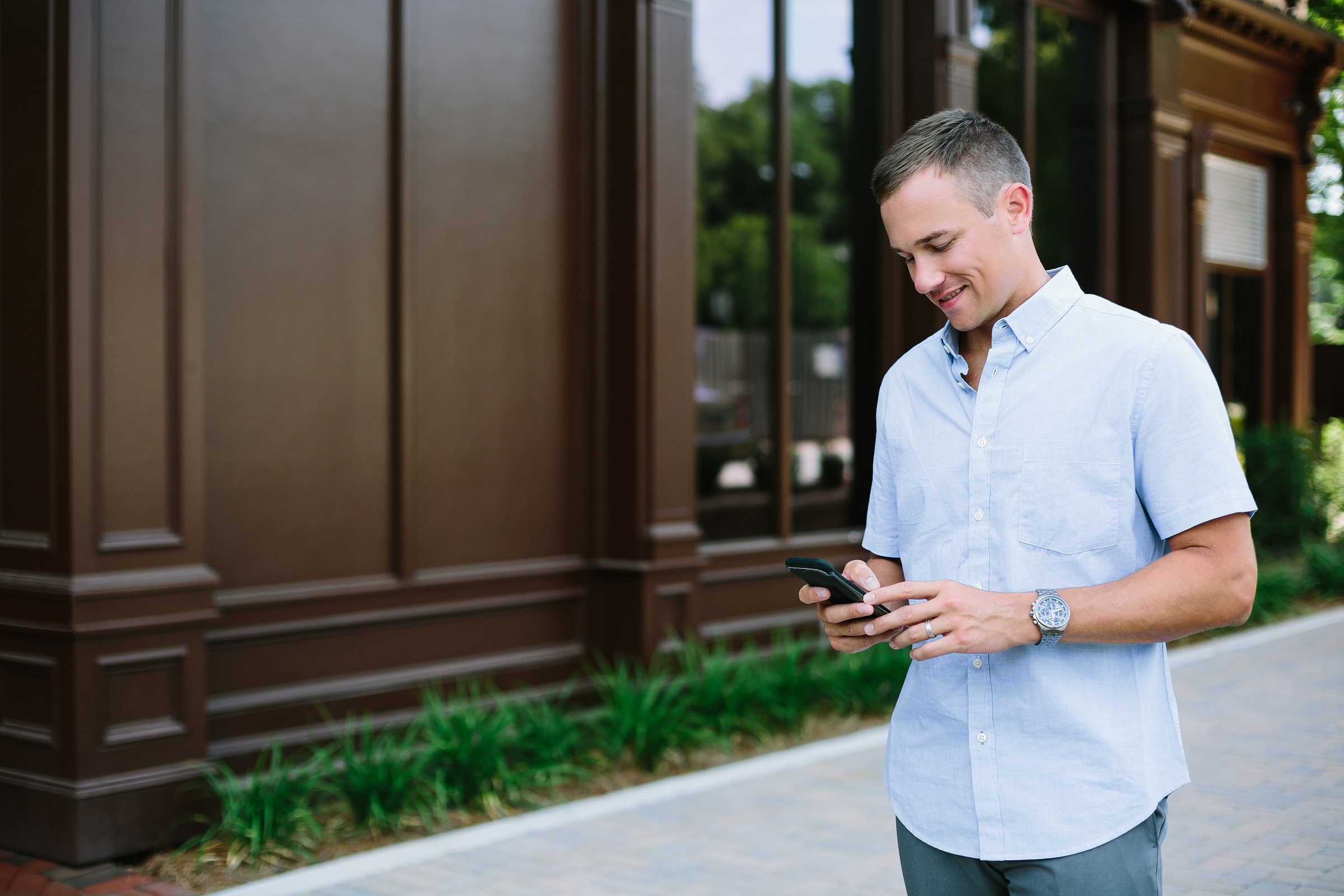 "We worked with Brad for over a year until we finally found the perfect home for our family. Throughout the process, Brad was extremely helpful and patient. Brad would often point out flaws about the many houses we looked at that we would have never caught. His honesty made us feel so comfortable with him. Without his guidance, there's no way we would have been able to close on the perfect home. Brad, thank you so much for helping us make our homeownership dreams come true!"
- Judah
Client Testimonials
Brad Poole helped us buy our first home and we could not have done it without him. He was there for all the ups and downs, and knew exactly who to call when we needed extra things checked out. Could not have asked for a better person and team to help make one of the biggest and BEST decision of our lives.
Jill T.
Brad's helped us to find our house in Milton over 4 years ago and was such a great help when it came time for us to sell that same house recently, we asked Brad to help us again. Brad's market knowledge and expertise put us at ease. He and his team helped make the selling process easy, consulting with us along the way and was there for us with questions and resources throughout the process. Brad knows the Milton market and was easily able to help us connect to resources when we first moved to Milton, and when we were selling the home was able to connect us with professionals to make repairs prior to selling. If you're looking for help in moving to the Milton area, or if you're selling in the Milton area Brad is the guy who can make your move easy!
Matt D.
100% recommend Brad and his team. My wife and I were first-time home buyers in the Roswell market earlier this year. Brad was such a calming and wonderful presence. He walked us through every step of the process, through multiple homes, until we found the one that we fell in love with. Brad was a great wealth of information and had answers for us for everything about lenders, closing attorneys, every step of the way.
Tyler F.
We used Brad and his group to purchase a new home in Alpharetta and sell our old home in Roswell. Brad is very responsive, understands what's needed to get a home ready to list, and knows a ton about the north Atlanta market. He also had great recommendations for ancillary services/contractors that go with purchasing/selling a home - especially the staging company he uses. Reagan is just as awesome and she was super helpful during the whole process as well. It's obvious that they are intentional with what they do and they strive to be excellent in all their work. Without hesitation I would use them again and highly recommend anyone in the market to buy or sell to contact the Brad Poole Group!
Brandon P.
Brad and his team consistently go above and beyond for their clients. Their knowledge and experience were evident from the very first meeting and the customer service is some of the best we've seen regardless of industry. Brad has helped us buy and sell homes twice now in the Milton/Alpharetta area. Each time him and his team were able to get us EXACTLY what we were looking for in both the sale of our previous home and the purchase of the new one all while making the process as stress free as it can be. If you are looking to buy/sell your home, Brad Poole Group should be your first and only call.
Paul P.
My husband and I were referred to Brad and his team through a referral. This referral changed the trajectory of our lives and we will forever be grateful.
We were in a not-so-unique situation of relocating from New Jersey to Georgia. What was unique, is we were going to have to purchase our house sight-unseen and our timing was Summer 2022. To become acquainted, Brad set up a call between us, took down our must haves and then our wishlist and set up a joint folder so his team could keep a pulse on our "favorites" and "deleted" homes.
In preparation, we flew down in April and met with Reagan, Brad's right-hand woman. Reagan took us to 11 different neighborhoods, and listings and listened to every piece of feedback we had. We loved our time spent with Reagan and felt like we had made a friend on this journey. She was patient with us (we asked MANY, many questions) and she happily took us around, knowing that we weren't in a position to purchase at the time. We never felt rushed or like we were an inconvenience.
Summer 2022 approaches, and we list our New Jersey home, and it's game time for our Georgia house. Reagan FaceTimed us through multiple homes, she and Brad spent their Saturdays and Sundays drafting up contracts for us, and then magic happened when we found "The One." We knew it was our home, as did Reagan and Brad. They worked hard to make our contract the most appealing and got us to the closing table.
We would refer Brad Poole Group to anybody and everybody. If you are looking for white-glove service with just great-hearted and kind people… this is your team. They will work hard for you, ensure you are getting the best value and will respond to any and every email/text you have, regardless of time of day. The amount of trust it takes to purchase a financial investment such as a home without even seeing it… just think about that.
We love this team, and thank you, Brad and Reagan, for all you did for us!
Kate K.
Brad did an outstand job of selling my home in Milton. He is a great communicator and always kept me in the loop during the process. He goes above and beyond as a real estate agent. Thank you so much to Compass Realty, the Brad Poole Group, and my agent Brad Poole!
Brett V.
Brad and his team were top notch. We were relocating from out of state to the Milton/Alpharetta area and couldn't have done it without them. They were responsive, resourceful and professional. I wish I could give them 19 stars.
Tara B.
Brad Poole and his team helped my mother and I sell our home in Milton, GA recently. He was by far the best agent either of us has ever worked with! Brad was so patient and understanding with us as we worked through circumstances related to moving out of state. He is extremely knowledgeable of the area and the market, He was always very responsive and provided excellent advice around timing and preparing our home that made it possible to sell our home above the asking price. We highly recommend Brad and his team if you are looking to sell your home.
Cherryl M.
We worked with Brad on the sale of our home in Alpharetta. As we began our search for a realtor, Brad and his team at the Brad Poole Group stood above the crowd from a marketing perspective, so we reached out as we prepared to list our home for sale. We were blown away by his professionalism, knowledge of the surrounding area's dynamics, and his commitment to ensuring our home would go to market in the best light. Choosing to move forward with Brad after our initial conversation was an easy choice. We were under contract in less than a week after receiving multiple offers. Throughout the process, Brad was responsive, always advising us in an honest manner to ultimately make the best decision for our family, and at moments going above his responsibilities to ensure a smooth closing. Not only is Brad a true expert at his craft, but someone we would consider a friend. We highly recommend Brad and his team at the Brad Poole Group.
Michael L.
Brad and his team are amazing! We had multiple offers over asking price within 3 days of listing our house. He is extremely knowledgeable about the area and gave us great advice. He goes above and beyond with marketing his listings which is why he's so successful. I would highly recommend him!
Lacey S.
Brad and his group were amazing. It was a great experience, and my wife and I wouldn't think of using anyone else in the future.
Craig P.
The Brad Poole Group is first class all the way through. They're are experts in the real estate industry and worked with us to ensure we had the best experience possible as well as get the most out of our home investment.
Thank you Brad, Reagan, & team!
Nikki & Kevin
We absolutely loved working with Brad on the sale of our home! He was incredibly responsive and worked hard to relay information between all parties (even after normal business hours). We appreciated his attention to detail and for providing valuable advice and options during the negotiating process.
Caroline
We used Brad to sell our home and purchase a new house. To say he is amazing is an understatement. He is knowledgeable, kind, intelligent, and one of the hardest working people I've ever met. He bent over backwards for us on several occasions and consistently had our best interest in mind. He is a wonderful negotiator and always prepared for whatever comes his way. We HIGHLY recommend Brad!
Kristian H.
Brad helped us find our first home right in time for the arrival of our first baby. Brad is amazing to work with, always approachable and always ready to help. We changed our requirements multiple times, went back and forth and put offers on multiple homes but Brad was patient with us throughout the process and helped us find a home that was right for us. We felt comfortable asking lots of silly questions and Brad was always prompt in his responses. He guided us with our decisions but never pressured us into anything we weren't comfortable with. Brad is humble and down to earth and always makes you feel like you are his number one priority - it was only after we saw the number of properties he sold last year did we realize how busy he must have been. Brad was a dream to work with and we would highly recommend him to anyone looking to buy/sell a property.
Venisa C.
Brad is excellent realtor, who expertly guided us through a competitive home buying market. We moved from DC and count ourselves very fortunate to have had Brad as our realtor.
He was very frank and honest, in his evaluations of the pros/cons of each house we viewed. And was spot on in his assessments. Over a 3 month period, he patiently showed us home after home. And in a competitive market, Brad clearly explained what a successful offer would look like in terms of price and contingencies. At the same time, we felt absolutely no pressure. And when we figured out our terms, Brad helped our offer stand out! And we won our current home with five other offers on the table!
We never felt pressured during our home tours with Brad. Brad has a keen eye for things to be cautious about in a home purchase and shared with us issues ranging from roofing, flooring to building material type. We absolutely trusted his input, assessment, and guidance on homes and would recommend him to any family and friends. We look forward to working with Brad and his team again in the future
Michael G.
Highly recommend Brad and his team. Brad was very helpful, responsive, and made the process easy. It was exceptional service from start to finish.
Nick N.
Brad was so easy to work with and made the buying and selling a house process so easy! He is extremely knowledgeable and thorough and we are lucky to have found him!
Kate P.
Brad and his team are top notch professionals. I searched extensively in Alpharetta , Johns Creek, Roswell and Milton.
Brad, being a native Georgian, knew so much about all the different suburbs. In addition, he was helpful in his knowledge of construction and maintenance of homes.
The market has been extremely competitive , but Brad is always quick to respond to showing requests.
He has a good relationship with other realtors, and knew when homes would be coming to market soon.
He was able to help negotiate the best price on your behalf.
Throughout the process, he is super patient and doesn't pressure you to just buy for the sake of closing a deal.
If you need an experienced realtor , I highly recommend him to represent you.
Janet M.
Brad and his team were a dream! My husband and I live in NYC and discussed buying a home in Alpharetta if/when we find the perfect house. Brad worked with us showing new listings and touring houses on our behalf - FaceTiming us during the tour. He clearly understood our wants and found us the perfect home! As we are not moving to the area for a time, we planned to rent the house and Brad also helped us rent it out (within just a few days of listing it for rent!). We can't say enough about the professionalism, efficiency, and knowledge of the market that Brad and his team provided us. We will definitely work with him again and recommend!
Stephanie M.
Brad Poole and his team did an amazing job helping our family navigate the North Atlanta real estate market and we weren't easy. We approached Brad with the idea that we wanted to live in Milton and we needed to be there around the time school started. It was July and the only thing we knew about the area was that there were horses and our son's school. Brad dove in and got to know us, most importantly, the must haves. To complicate things, we were now armed with Zillow and Realtor.Com pinging him day in and day out on properties that were selling in under 7 days. Brad was always quick to answer any questions and it was clear that he had earned trust with many other realtors as he was able to get insights that weren't available online keeping us from looking at things he knew wouldn't meet our needs. Brad was super flexible, dealing with me flying in on 3 hours notice and meeting me to look at newly listed properties. He always made it work and never seemed put out. In the end, Brad helped us get into an amazing property in Canton, just across the county line from Milton. In the end, the seller considered our offer over another commenting, "The reason we went with your offer was because your agent really had his act together. His communications were well organized and made us confident that your offer was solid and well thought out.
Kellie M.
Brad and team were the consummate professionals. When we decided to list, the Brad Poole Group was widely recommended by others. After working with them on the sale of our home, I can understand why! Their team worked to understand our needs and positioned the financial and presentation of our home to sell and achieve our goals. I would highly recommend The Brad Poole Group to anyone wanting to optimize not only the sale of their home but the entire experience.
Jeffery L.
Brad, and especially his team, did an amazing job guiding us through the selling process. His suggestions were very helpful and clearly showed his knowledge of the market. With us being between two states, it was very comforting to know that team had an amazing crew of painters and other workman that would continue the process even if we were not there. While we did have a number of discussions about Brad's recommendations, it was clear by how fast our home sold, that Brad was correct.
John Q.
After 23 years in the same home, it was a big decision to sell our house with a lot of memories with family, neighbors, & life long friends tied to it. But once we were there we needed someone like Brad Poole supporting and guiding us the entire way with making the hard parts easier, taking the time to communicate what was the right thing to do and timing to do it in, and he always kept us focused on the end result, which he was always aligned to in everything we did. We highly recommend Brad and his team, this group of professionals is responsive, experts in the housing market, consultative, and trusted to help you reach your goals or next steps, no matter where you are in life. Here's to you Brad for helping us to our next stage and for being there for us every step of the way!
Michelle P.
Brad and his team went above and beyond to help me sell my house. He also helped us maximize our return and made the sales process much easier than expected. I would highly recommend Brad and his team!
Jim F.
Working with Brad was a great experience! He was there for us throughout the entire process. Very responsive to questions and concerns. There is no doubt in my mind he understood the market dynamics and got us top dollar. Would very much recommend Brad to anyone in the Atlanta area.
John T.
Brad Poole was exactly the right person to help us sell our home. He told us everything we needed to do to get the house ready for the market and made countless recommendations that proved to be spot on. Our home sold quickly for a great price. My wife & I have sold several homes over the years and this was by far the best experience due to the expertise and attention to detail Brad brings. I highly recommend Brad!
Mark E.
This is the second time I've used Brad to acquire a home. He will always be my agent. He knows the market, knows how to help his clients be competitive, and knows how to win. I truly enjoyed my experience with him and his team.
Chad E.